Superman Joins the UN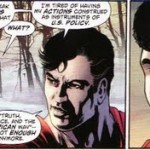 Last week saw the 900th anniversary issue of Action Comics. In June 1938 when Action Comics #1 was released the politics behind comics was a lot more simple. With a primarily young USA based audience the only things Superman has to deal with was bank robbers, runaway cars. Needless to say global politics and international box office profits were not a priority.
In Action Comics #900 the last short story "The Incident" places Superman explaining to Gabriel Wright the Presidents National Security Advisor why he had to intervene in a Tehran protest.
Superman flies into the protest and stand between the Iranian Army and the public to enforce a peaceful protest. Superman stays in Azadi Square with the protesters for 24 hours before leaving.
Superman wanted to do something to help the world. He is always the no1 solution for stopping alien invasions and super villains but this time he wanted to do something to help enforce basic human rights.
Superman: Action Comics #900
"Truth Justice and the American way"– It's not enough any more.
Next week will see the reprint of DC Comics Presents: Son of Superman #1.
Fifteen years after the disappearance of Superman, a teenage Jon Kent awakens one day to learn that not only is he the son of the Man of Steel, but he has suddenly inherited his powers.
Looking to follow in his father's footsteps, Jon joins a rebel organization that fights against the now completely corrupt U.S. government and their plan for total economic segregation. But by becoming an enemy of the state, the son of Superman instantly becomes a target of the government-run Justice League. Now in order to live up to the legacy of his father, Jon must defeat corrupted and deviant versions of Batman, Wonder Woman, Green Lantern, Aquaman, and The Flash.
My gut instinct says this may all have something to do with the new Superman movie which is being written by David S. Goyer.
David is well known for taking a comic book and reinventing and adapting the characters for movies like the Dark Knight, Ghost Rider, Blade and the original Nick Fury movie.
Regarding Superman renouncing his citizenship it may be that DC just want to make the comic icon more digestible for an international audience by the time the 2012 release date for the movies comes about.