All Star Superman Movie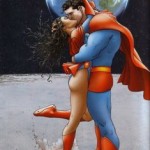 If you can't wait for the 2012 re launch of the Superman movie this is a great fill in for the time being. All-Star Superman is based on the 12 issue miniseries originally written by Grant Morrison and Frank Quitely.
It really is as good as any cartoon could get. The story follows the main theme of the comic series along with a few changes to make it more digestible for those not familiar with the comics.
I haven't read a bad review of the movie as it is pretty much an animated masterpiece and if the 2012 movie had been cancelled this would have been a great replacement.
The voice acting in the movie is done by a great cast who you will pretty much recognise even if you can't put a voice to a name.
James Denton (Desperate Housewives) as Superman
Christina Hendricks (Fire Fly) as Lois Lane
Anthony LaPaglia as Lex Luthor
Edward Asner as Perry White
Obba Babatundé as Judge
Steven Blum as Atlas
Linda Cardellini as Nasthalthia "Nasty" Luthor
Cathy Cavadini as Floral
Frances Conroy as Martha Kent
Chris Cox as Lead Agent
Alexis Denisof (Angel/Buffy) as Dr. Leo Quintum
John DiMaggio as Samson
Robin Atkin Downes as Solaris
Michael Gough as Parasite
Matthew Gray Gubler as Jimmy Olsen
Finola Hughes as Lilo
Kevin Michael Richardson as Steve Lombard
Fred Tatasciore as Krull
Arnold Vosloo as Bar-El
Overall it's a big step up from Doomsday and Public Enemies and well worth a worth if you get the chance.