Amy Adams is Supermans new Lois Lane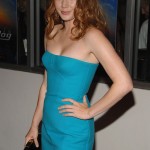 I think I have officially given up on trying to speculate who will be cast next in the Superman movie. Henry Cavill came out of nowhere to be cast as the Man of Steel and nobody could have guessed Kevin Costner could be Johnathan Kent.
The latest star to join the cast is Amy Adam who will be playing Lois Lane in the new Superman movie.
Amy surprisingly has worked with Superman before during episode seven of season one of Smallville which was called "Craving" where she played Jodi Melville.
Amy has also worked with Batman well Christian Bale at least in last years The Fighter movie which may have been the part which got her noticed by Zack Snyder and others involved with casting.
Zack Snyder
There was a big, giant search for Lois," Snyder said. "For us it was a big thing and obviously a really important role. We did a lot of auditioning but we had this meeting with Amy Adams and after that I just felt she was perfect for it.
Thanks to the LA times for the news.