New Superman pictures in Entertainment Weekly April issue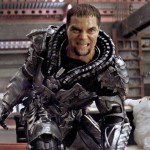 The April issue of Entertainment Weekly has some never before seen pictures from the new Man of Steel movie. It gives us the first clear look at Zod.
The picture of Michael Shannon as Zod shows just how much WB want to distance this movie from the others. It's a totally new General Zod from what we have seen in the past movies and comics.
To go with the total reinvention of Zon even Perry White is remodeled with Laurence Fishburne playing the head of the Daily Planet. Laurence doesn't normally play small parts in movies so I'd expect Perry White will have a bigger part in the new movies than before.
There is one really interesting picture with Faora who is played by Antje Traue. In the picture it looks like she is putting a Kryptonion space suit on Lois Lane while Superman watched. Are they sharing technology, is Faora on Superman side in the movie? We wont know for sure before the release date in June 2013.
One of the close up shots also has a good clear view of the new Superman costume and it almost looks like the belt buckle is functional but again we will have to wait for June before we know for sure.