First Picture of Henry Cavill as Superman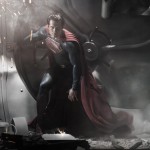 The first Official picture of Henry Cavill as Superman has been released through DC Comics website. With the success of The Dark Knight movies by Christopher Nolan it looks like they are going for a much darker version of the comic icon we are used to.
The screen play for the movie has been written by David S. Goyer who also worked on the Dark Knight and Christopher Nolan will also have a hand in producing the movie.
The Man of Steel is also going to be directed by the epic Zack Snyder who directed 300 and Watchmen. It's an amazing production crew just mentioning the main people behind the camera.
You also can't go wrong with the stunning Amy Adams who will be Superman's all time love interest Lois Lane.
Thanks to DC Comics for the photo.