Limited edition Man of Steel Stamps in the UK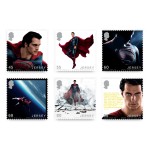 Six limited edition Man of Steel UK postage stamps will be going on sale June 7th 2013.
Stamps are a big deal in the UK as for many years it was only legal to have pictures of the Queens face and any special edition stamps are usually to commemorate only very unique occasions of national importance.
It's clear that having a British actor playing Superman has made the nation prowd and the only thing better is a Knight Hood which could be on the cards next.
The stamps have been released by Jersey Post to mark the biggest star Henry Cavill who was born in Bailiwick of Jersey.
To buy the stamps or to take a look at the limited edition sets visit the Jersey Post.