Could Michael Rosenbaum play Lex in Man of Steel sequel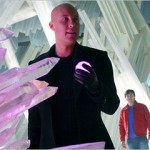 The first casting update for the Man of Steel sequel is very promising as Michael Rosenbaum has shown interest in playing Lex Luthor again.
Like most of the best news it came from Twitter as he confirmed he really wants to play Lex Luthor again for the next movie.
Michael Rosenbaum has easily been the best Lex Luthor, he even won awards for his interpretation of the billionare bad guy. Rosenbaum did just as much for Lex luthor as Heath Ledger did for the Joker.
Rosenbaum's Lex Luthor was an original take on the character which won over fans as he reinvented Lex giving him more motivation and emotion that anyone playing him before or since.
We all remember what Kevin Spacey did with Lex Luthor and overall it wasn't considered complementary to the classic DC villain. Part of Kevin's downfall was due to having to play Lex after what Rosenbaum totally embodied.