Man of Steel On Set Photos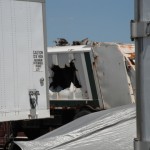 Everything about this movie is being kept super tight to the production crew. It's likley due to the slight rush in the movie making process. Normally a movie like this could take 10 years from start to finish but it seems to be flown through development in 2.
Judging from the team involved in making this movie though it's going to be amazing even if it was only filmed in two weeks. With the Actors and crew behind the camera including David S. Goyer and Christopher Nolan it's going to be to movies what Death of Superman was to comics.
At the moment there must be a full script out there as the pictures show they are well into filming the new origin of Superman.
Judging from the pictures of Smallville it looks like Clark may have a hard time growing up.