Superman Batman Movie Could be closer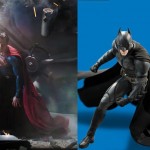 As the last of Christopher Nolan Dark Knight movies finally in the editing room it leaves DC thinking what to do with the next cinematic Batman movie.
There have been strong rumors of a Batman – Superman movie in the works for years with numerous rejected scripts hitting the net in the past. But recently with the Superman logo showing up in the Dark Knight poster and the latest Pr shots for the Dark Knight movie reveal a very familiar pose.
It's honestly unlikely we will see a Superman – Batman movie any time in the next 5 years as DC really need to reestablish Superman to the general public in a movie which can contend with the first Christopher Reeve movies.
Saying that with Marvel in full gear showing off the Avengers movie we could very well see more cameos in the upcoming DC movies.