Superman vs Elite DVD and Blu-ray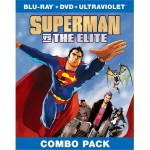 The latest and possibly one of the greatest Superman animated movies wont be out at the cinema but it will be out on DVD and Blu-ray very soon via the wonders of the Internet. The movie has a June 12th release date through Amazon and will be available in some shops towards the end of June.
In the movie we see a team of super villain terrorists hell bent on anarchy almost kill the Man of Steel. Superman is left with some difficult choices. The story goes beyond the usual Super hero comic themes and touches on world politics and the price of world order.
Both the DVD and Blu-ray release will come with an extended look at the upcoming animated movie Batman: The Dark Knight Returns which was based on Frank Millers edgy version of Batman.
Also included are the featurettes "The Elite Unbound: No Rules, No Mercy" and "Superman and the Moral Debate", episodes of Superman the animated series and a digital copy of Action Comics #775. All together it's an unmissable collection for any Superman Fan.