Superman Vs Elite – The Elite Arrives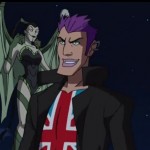 WB have released a new clip from the upcoming animated movie Superman Vs the Elite. It's going to be a straight to DVD release based on one of the most popular Superman stories told in the last decade.
With the new Man of Steel Release Date pushed back till 2013 this is going the closest thing to a Superman movie for fans this year with a June 12th release date.
The new clip shows the group of super terrorists as they arrive in Metropolis and decide to kill a poor starving dog. It's not the kind of epic introduction you would expect of a super villain of the likes of Doomsday, even Metallo could probably do better but that aside it looks to be a great release coming out around the same time as the Dark Knight Rises.