Warner have full rights to make Superman movies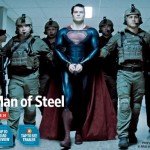 It's been a long and very hard battle for DC and Warner Bros fighting for the rights to make Superman movies without the Jerry Siegel estate being involved. Finally in the early days of 2013 the year we see a return to the cinema for Superman Warner Bros have been awarded what they drastically needed.
Two years ago there was the possibility that we might not see a new Superman movie for decades due to legal reasons. Now Warner Bros and DC have the green light to move forward on the franchise including the upcoming Justice League movie and a whole new reboot of the Superman movies.