Man of Steel Trailer – Fate of your Planet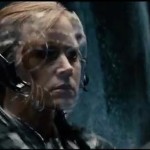 The latest Superman movie is going to reboot the whole franchise of give a whole new life to the Man of Steel. We have seen a few trailers so far but the latest one titled "Fate of your planet" has a lot of previously unseen footage.
This new trailer features some awesome scenes including General Zods ships trashing Metropolis and a breif few frames of what looks like Lois Lane in a Kryptonian space suit.