Smallville "Absolute justice" promo poster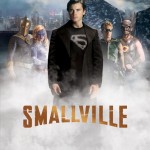 The CW have released a new Promotional poster to promote the upcoming 2 hour Smallville movie "Absolute Justice" released on the 5th of February.
The poster features characters from the Justice Society Stargirl,Hawkman and Doctor Fate alongside Clark and Oliver.
Having seen the trailer and now a poster personally i can't wait to see it.
Find the full "Absolute justice" article here