Sandman revealed in Absolute justive movie?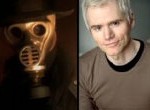 An Internet Movie Database listing of a Absolute justice, reveals recent Supernatural (program) guest star, who will be playing Wesley Dodds, a.k.a. the Sandman, in the upcoming Smallville Absolute Justice movie.
Right now this information has not been confirmed by the studio, but is most likely to be true.