Rosenbaum's Not Returning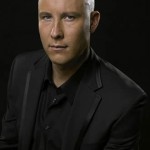 Micheal Rosenbaum announced on twitter that he will not be returning to Smallville, but has released information that he will have a funny role in a new program.
"Sorry. It's not Smallville related. I've already stated that I'm not returning. I'd never lead you guys on like that. I appreciate your support,"
Even though Micheal will not be in Smallville again, he has got a funny role in Christian Slater's upcoming FOX TV pilot about a group of computer hackers.
We will have to see what the Smallville writers will have to do about Lex Luthor not returning.