Smallville Season 10 spoilers + Current episode guide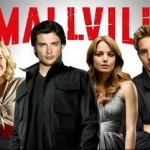 Episode #10-1: "Lazarus" (Season Premiere)
Aired- September 24, 2010
Spoilers – IGN has broken the news that John Schneider will be appearing in this episode, reprising his role as Jonathan Kent, last seen in Season 5. Could it be as part of a near-death experience for Clark?
– The term "Lazarus" has been used before on the series, in Season Three, where it was a serum that brought a deceased human back to life for 12 hours, as had happened with Adam Knight. It's also well-known in the DC Comics
universe as the "Lazarus Pit" is a term used in Batman comics, usually associated with Ra's Al Ghul. The Pit has rejuvenating abilities that can render someone youthful and nearly immortal. The fourth season premiere of Supernatural was titled "Lazarus Rising" and was about Dean's return to the world of the living, and of course there is the Lazarus referred to in the Christian Bible, a man who was restored to life by Jesus in the Book of John. Perhaps one or all of these things are clues on how Clark will survive his fall.
-Justin Hartley assumes his chest scar will be fixed because he is naked at some point early in the season. He also let it slip that a big part of his arc will involve Chloe, and that he will be "joining up," possibly with the Suicide Squad.
– The "villain from the past?" All interviews are pointing to it being a Lex clone. Brian Peterson tells us Lex "always has a back up plan."
– It sounds as though Allison Mack will be in the premiere as Chloe before leaving, though she will be back later in the season. A scene in the promo reel showed Chloe holding Doctor Fate's helmet.
– Lois says the word "Superman" in the preview reel.
– We DO see a costume, made up of the Brandon Routh suit. It is in the same box Martha left for Clark in the season finale.
Episode #10-2: "Shield"
Aired October 1 2010
A really annoying-seeming character named "Nancie" who has a son is in this episode. She comes to work at the Daily Planet, and she seems to be filling in while Lois is… where? We don't know. At one point she listens on the radio to someone named "Godfrey," which could be a reference to Glorious Godfrey of Darkseid lore. The radio "Godfrey" has a thing against "the hero menace," much like he did in the 1980's Legends comic book series.
– A character from the comics who works at the Daily Planet and at one point had a young son is Cat Grant. Could "Nancie" be a "Cassie/Zatanna, Melissa/Maxima" like diversion?
– The episode also includes a modern day cowboy named Liam who's gunning after Clark Kent – and a woman with the ability to teleport.
-TVGuide.com has revealed that Jessica Parker Kennedy will be returning in this episode as Plastique. Incidentally, the character that was originally planned to come in with the ability to teleport was supposed to be Nightshade of the Suicide Squad. Maybe she'll show up later in the season instead.
-Lois has a scene in the desert with Carter Hall where she learns some things that makes her better understand the recent changes in her life.
– Cat Grant will indeed be played by Keri Lynn Pratt.
– We heard rumblings at the Con that the Suicide Squad's "Deadshot" will make an appearance. Could he be Liam? We didn't get to ask, sadly.
Episode #10-3: "Supergirl"
Aired October 8 2010
Laura Vandervoort's return episode is called "Supergirl." We do not yet know which episode this will be. We are assuming it's not #200, but it does air in October, as episode #10-4 will.
-There is a scene in this episode that takes place in a club.
– Oliver and Kara finally meet.
Episode #10-4: "Homecoming" (200th Episode)"
Aired October 15 2010
-James Marsters plays Brainiac 5, the future counterpart of his villain from previous seasons. Kelly Souders tells TV Guide that he is a "slippery fish with a questionable moral compass" despite being part of the Legion of Super-Heroes.
– There are at least two things in this episode that will make "Clois shippers" very happy.
-There's a Homecoming dance that Clark and Lois attend at Smallville High. Tom Welling has been spotted with a red and yellow Crows jacket.
– Although it seems as though Allison Mack won't be in this episode, Chloe's presence at Smallville High will not be overlooked or forgotten
Episode #10-5: "Isis"
Aired October 22 2010
– The first thing that might come to mind with this title might be the Isis Foundation from previous seasons; however… we're going to go on a limb here and speculate that this has to do with the character of Isis. In the original TV series The Secrets of Isis starring Joanna Cameron, Isis was "a high school science teacher who gains the ability to call upon the powers of the goddess Isis after finding an Egyptian amulet during an archeological dig in Egypt." There was an Isis tie-in comic from DC in the 1970's and then the character – or a variation of her – was brought into DC continuity in the popular weekly series 52. Please note that the idea that the classic Isis character is the basis for this story is not confirmed at this time and that this is just speculation. Maybe we're wrong and this is the return of Lana and the Isis Foundation, or something.
Episode #10-6: "Harvest"
Aired October 29 2010
Episode #10-7: "Ambush"
Aired November 2010