Annette O'Toole and Michael McKean Returning To Smallville!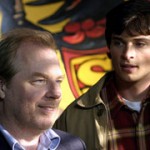 Annette O'Toole the roles of Clark kents mother Martha Kent is returning for one of the series final episodes, Annette O'Toole has inked a deal to return to Smallville as Martha Kent later this series.
Another familiar face this season will be Annette O'Toole's husband,Micheal Mckean who will be returning as future editor of the Daily Planet, Perry white,k who we havn't seen since series 3. And now We finally get to see the legendary introduction between Perry White and the intrepid Lois Lane.
It is confirmed that the two will be returning to smallville in the second to last episode 9×21