Disciple episode description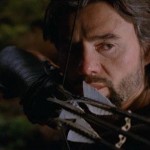 Here's the description for "Disciple," the January 22nd episode of Smallville:
Oliver's past comes back to haunt him in the form of A guest star The Dark Archer ,Oliver's former teacher, who seeks revenge on his student by taking aim at Lois and Chloe. Oliver faces down The Dark Archer after his former mentor kidnaps Mia or as you know her "Speedy" but is pushed to his limit and Clark races to stop him from making another deadly mistake.
Check the CW on January 22nd for "Discipe".