Official Escape Description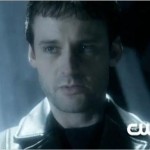 Well here is the official CW description of the next episode of Smallville, the sixteenth episode of the season will be aired after the season break on the 2nd of April.
DC COMICS' CHARACTER SILVER BANSHEE INTERRUPTS A ROMANTIC GETAWAY FOR LOIS AND CLARK – Clark (Tom Welling) and Lois (Erica Durance) head out of town for a quiet romantic getaway, but their plans are thwarted when they run into Chloe (Allison Mack) and Oliver (Justin Hartley) at their Bed & Breakfast Inn. The couples' awkward moment is interrupted by the arrival of the Silver Banshee (guest star Odessa Rae), who sets her sights on Clark and Oliver. Meanwhile, Tess (Cassidy Freeman) faces off with Zod (Callum Blue) with a surprising result.