Franklin Stern coming to Smallville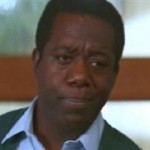 Well it seems that Maxwell Lord isn't the only DC comic character appearing in Season nine's 20th episode, Charade, in April.
Blu Mankuma, who recently had the role in the film 2012, will have the part of Franklin Stern who first appeared in the Superman: The Man of Steel comic and has appeared in Lois and Clark, Stern is the owner of the daily planet so is there a chance of a change to the planet? Wait and see in Charade airing on April 23, 2010.