Smallville January-February schedule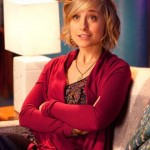 The Futon Critic have now confirmed to the CW that the Smallville episode "Warrior" will now be airing on February 12 due to the delay with the returning episode "Disciple".
so this means that the schedule of smallville in January and beginning of February is as followed.
22/January Hope For Haiti Fundraiser – No Smallville
29/January "Disciple"
5/February "Absolute Justice" 2-Hour Movie
12/February "Warrior"
So here is the episode guide for smallville and we hope to see the new episode soon!
(Picture – "Warrior" episode screen shot)