Season nine episode list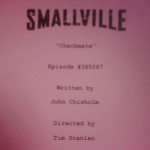 With season 9 being halfway through already, here is a list of all the episodes of the season, including already aired episodes and future released ones aswell, with information and descriptions.
Current episodes
Episode #9-1 Savior
Episode #9-2 Meatallo
Episode #9-3 Rabid
Episode #9-4 Echo
Episode #9-5 Roulette
Episode #9-6 Crossfire
Episode #9-7 Kandor
Episode #9-8 Idol
Episode #9-9 Pandora
Episode #9-10 Disciple
Episode #9-11/12 Society and Legends, Or Absolute justice
Episode #9-13 Warrior
– Due to the Hope For Haiti marathon airing on 1/22, this episode has been delayed with the revised air date being February 12, 2010.
-The CW's Official Description METROPOLIS HOSTS A COMIC BOOK CONVENTION — DC COMICS' CHARACTER ZATANNA RETURNS — Clark (Tom Welling) meets Zatanna (guest star Serinda Swan) at a comic book convention, where she tells him her father charmed a copy of the comic book "Warrior Angel" and it holds magical powers. A young man named Stephen (guest star Carlo Marks) steals the comic book and develops super powers, transforming himself into Warrior Angel and saving Chloe (Allison Mack) from a horrible accident. Meanwhile, Lois (Erica Durance) becomes jealous of Clark's relationship with Zatanna.
Episode #9-14 Persuasion
– The CW's Official Description: LOIS MOVES IN WITH CLARK — It is Valentine's Day and while Clark (Tom Welling) is out on a date with Lois (Erica Durance), he unknowingly becomes infected by gemstone
kryptonite, which has magical wish-fulfilling properties. Clark mentions to Lois that he wishes they had a more traditional relationship,so Lois quits the Daily Planet, moves in with Clark and starts planning their wedding. Still unaware of his new power, Clark also casually tells Chloe (Allison Mack) he wishes she would spend more time watching out for him, so an infected Chloe takes his wish to heart and sets her sights on a new target – Lois.
Episode #9-15 Conspiracy
– The Kandorians are attempting to integrate themselves into society, but when they start to go missing, Zod and Clark work together to solve the mystery behind the disapperances.
-ZOD IS SHOT — Bernard Chisholm (guest star J.R. Bourne), a doctor who died and was brought back to life by the Kandorians so they can experiment on him, escapes and kidnaps some Kandorians in order to prove aliens have invaded Earth. Bernard tries to get Lois (Erica Durance) to write a story validating his claim, but when Lois refuses, he kidnaps her too. In an effort to save his people, Zod (Callum Blue) poses as a reporter from the Daily Planet and uncovers Bernard's secret lab. Clark (Tom Welling) arrives at the lab just in time to see Zod get shot.
Episode #9-16 Escape –
April 2, 2010
– TVGuide.com has revealed that Odessa Rae will be playing Siobhan McDougal, a.k.a. "The Silver Banshee," described as "a vengeful spirit of a fallen Gaelic heroine. She's accidentally released from the underworld, and takes out her vengeance at an unassuming country bed and breakfast
" where Lois and Clark will be staying.
– DC COMICS' CHARACTER SILVER BANSHEE INTERRUPTS A ROMANTIC GETAWAY FOR LOIS AND CLARK – Clark (Tom Welling) and Lois (Erica Durance) head out of town for a quiet romantic getaway, but their plans are thwarted when they run into Chloe (Allison Mack) and Oliver (Justin Hartley) at their Bed & Breakfast Inn. The couples' awkward moment is interrupted by the arrival of the Silver Banshee (guest star Odessa Rae), who sets her sights on Clark and Oliver. Meanwhile, Tess (Cassidy Freeman) faces off with Zod (Callum Blue) with a surprising result.
Episode #9-17 Checkmate – April 9, 2010
– PAM GRIER ("JACKIE BROWN," "THE L WORD") GUEST STARS AND PHIL MORRIS RETURNS AS MARTIAN MANHUNTER – Tess (Cassidy Freeman) creates an elaborate hoax in order to kidnap Green Arrow (Justin Hartley), and delivers him to Amanda Waller (guest star Pam Grier), who tells him that that the government is recruiting him to serve his country. However, Green Arrow escapes before they can reveal his identity. After Oliver brings Clark (Tom Welling) and Chloe (Allison Mack) up to speed, the three investigate and Clark is surprised to find John Jones (guest star Phil Morris) investigating Oliver's kidnapping too. Clark senses that John is keeping information from him. Oliver and Clark are shocked when Tess reveals that Amanda is after something called "Watchtower." Waller threatens to kill Chloe unless Clark gives her the names and locations of the rest of the Justice League.
– Actress Pam Grier posted on her Twitter that she has just "worked with the brilliant Phil Morris" on Smallville; by doing this, revealing that this is the episode featuring the return of the Martian Manhunter
Upcoming episodes
Episode #9-18 Upgrade – April 16, 2010
-Entertainment Weekly's Michael Ausiello has revealed that Brian Austin Green will be returning in the season's 18th episode as Metallo..
-BRIAN AUSTIN GREEN RETURNS AS METALLO AND CLARK IS INFECTED WITH RED KRYPTONITE – Zod (Callum Blue) continues to pose as "The Blur" and asks Lois (Erica Durance) to investigate one of Tess' (Cassidy Freeman) secret labs. An explosion rocks the lab, and Lois is rescued by John Corben (guest star Brian Austin Green) who was a subject of multiple experiments. While investigating the explosion, Clark (Tom Welling) is exposed to red kryptonite. And infected Clark takes Zod to the Fortress. Tess turns to Chloe (Allison Mack) for help and they send in Corben to stop Clark from revealing all his secrets.
Episode #9-19 Charade –
April 23, 2010
-DC Universe character Maxwell Lord will be appearing in this episode.
– Also DC character Franklin Stern will be appearing.
– DC COMICS' CHARACTER MAXWELL LORD VISITS METROPOLIS – Lois (Erica Durance) investigates the early prison release of ex-District Attorney Raymond Sacks (guest star Dylan Neal) but he threatens her with a gun when confronted. The Blur (Tom Welling) saves her, but is captured on film by a delivery guy (guest star Dustin Schwartz) who plans to sell the photo to Sacks. Lois and Clark each attempt to thwart the delivery of the photo and run into Maxwell Lord (guest star Gil Bellows, "Ally McBeal"), a wealthy tycoon and Checkmate operative, who is trying to learn The Blur's identity to eliminate him. Meanwhile, Chloe (Allison Mack) discovers Zod's (Callum Blue) secret.
Episode #9-20 Sacrifice – April 30, 2010
Episode #9-21 Hostage –
May 7, 2010
– Entertainment Weekly's Michael Ausiello has revealed that Annette O'Toole will be returning to Smallville as Martha Kent in this episode, and Michael McKean will be back as Perry White.
Episode #9-22 Salvation – May 14, 2010